Slavery in Detroit
Slavery in Detroit is a public history project that seeks to explore and share a chapter of the city's history that is rarely acknowledged. Detroit, like many towns across colonial and early America, was a place where slavery was practiced. Both African Americans and Native Americans were held as property there, and they struggled to live within the limitations of bondage. Several enslaved Detroiters attempted escape to secure freedom for themselves and their families before the War of 1812. Confronting the reality of slavery in Detroit allows us to see hidden dynamics as well as lesser known heroics in Detroit's past.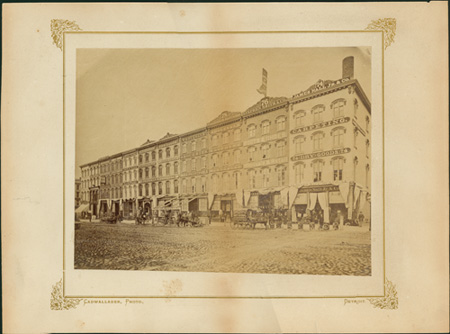 The Slavery in Detroit project has various components that are continuing to unfold. "Mapping Slavery in Detroit" is an informational website created with a team of dedicated undergraduate and graduate students at the University of Michigan with support from the Undergraduate Research Opportunity Program at UM. The website includes reflections on a tour of Detroit taken by our team and guided by Detroiter and professional storyteller Elizabeth James. (For further reading on this topic and additional maps about black Detroit history, see our reference list on the website.)
A Michigan History magazine article, Slavery in Early Detroit,based on a public presentation made by our team at the Historical Society of Michigan Local History Conference in 2013 describes early thoughts on this research. Tiya is currently at work on a book to further explore and expand the Slavery in Detroit public history project.
Watch the video of Mapping Slavery in Detroit.
The video showcases the two years of work Professor Tiya Miles and a team of students spent researching the history of slavery in pre-Civil War Detroit, mapping the lives of slaves and former slaves and reclaiming an essential part of the city's history.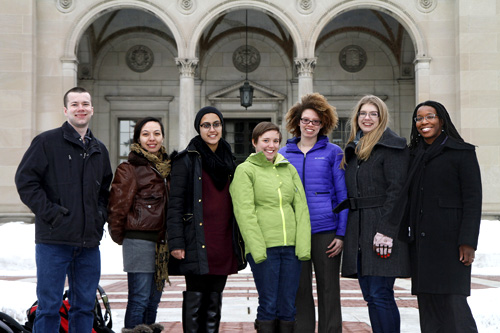 The Fall 2014 issue of LSA Magazine featured a write-up of Mapping Slavery in Detroit written by Brian Short. Read the full article.
View full project site.
Vann House Public History Project
To learn more about the Vann House, check out my book, The House on Diamond Hill: A Cherokee Plantation Story.
Download: African American History at the Chief Vann House
Since 2002 I have been actively engaged in a public history project focused on the Chief Vann House State Historic Site. The Chief Vann House, operated by the Georgia Department of Natural Resources, offers a rare opportunity for the exploration of African American life among American Indians. James Vann was a wealthy Cherokee who built a plantation called Diamond Hill in present-day north Georgia. Vann and his family possessed nearly 100 of the 583 black slaves owned by Cherokees in the first decade of the nineteenth century. The Vann home has been restored and is open to the public for guided tours and events.
I first visited this site in 1998 while doing research for my book on the Shoeboots family. I was dismayed to discover that the tour of the Vann House made no mention of the history of African American slavery in the Cherokee Nation or of the human stories of the many black men, women, and children who had lived and worked on the grounds. I felt concerned that the slogan of the house museum: "The Showplace of the Cherokee Nation," was romanticizing and even glorifying a place where the abuse of human beings had been common. And so I became committed to a more ethical interpretation of the historical significance of this site and to bringing a multifaceted picture of the Vann House history into public view. Toward this end, I entered into a sensitive, long-term dialogue with the committed park rangers who operate the site about the absence of African American history and about potential projects that might address this gap.
The most exciting component of my public history work with the Vann House museum is a research project that I developed with students in an upper level undergraduate course at the University of Michigan, titled "Blacks, Indians, and the Making of America." With the goal of increasing awareness of African American history at this historic site, nearly thirty students in the class from diverse racial and cultural backgrounds researched the history of the Vann plantation, relying on sources ranging from Moravian missionary diaries to Works Progress Administration narratives of former slaves of Indians, to classic secondary sources on slavery in the Cherokee Nation. The students shared their research findings with their classmates and then wrote individual papers on their chosen topics. The papers were edited, shortened, combined, and compiled over a summer by a team of African American and Native American students who worked closely with me. The result of this work is a booklet titled African American History at the Chief Vann House, intended to illuminate, commemorate, and contextualize the lives of enslaved Africans and African Americans who labored on the Vann plantation. The booklet is available at the Vann House and in PDF form on this page.
Margaret Ann Crutchfield Memoir
The House on Diamond Hill: A Cherokee Plantation Story contains a transcription of the religious memoir of Peggy Scott Vann (also known as Margaret Ann Crutchfield), mistress of the Diamond Hill plantation and wife of James Vann. As the first convert to the Moravian faith in the Cherokee nation, Peggy should have written, or had written for her, a religious biography called a "Memoir." However, archivists expected that a memoir had never existed for Peggy Vann because no such text had been found. A copy of the original text has now surfaced. Learn more.
Laura Smith Haviland, Michigan Abolitionist
The Underground Railroad (UGRR) in Michigan has become a topic of increasing public interest during this sesquicentennial anniversary of the Civil War. While on sabbatical in 2010-11, I had the opportunity to engage in local research on the topic. I became especially interested in the biography of the daring abolitionist, Laura Smith Haviland, whom historian Catherine Clinton has compared to Harriet Tubman. Like Tubman, Haviland felt authorized by her faith in God to attempt radical action on behalf of those who were held as slaves. Haviland is also the only white woman known to have developed and followed her own plan to cross the Ohio River in an attempt to free an enslaved person. In the rescue effort that ultimately failed, Haviland masqueraded as a light-skinned African American to gain access to the black woman she had hoped to help. Active in both Canada and the U.S., Haviland became a prominent 19th-century abolitionist, educator, author, human rights advocate, and women's rights proponent. Laura Haviland's personal diary from the 1890s, which has yet to be cited by historians, is available to researchers at the Lenawee County Historical Museum in Adrian, MI. In that diary Haviland refers to her friendship with Sojourner Truth and expresses her support for women's suffrage.
To read some of what I discovered about Laura Smith Haviland, see my recent article in Michigan History Magazine as well as my co-edited recipe booklet on abolitionist women's recipes in which Haviland's passion for graham flour is highlighted.
Listen to my interview on Michigan Public Radio's Stateside with Cynthia Canty to hear more about Laura Smith Haviland's heroic contributions to the anti-slavery movement in Michigan and the Midwest.
To read a detailed overview of the UGRR in Michigan, see Carol Mull's new book.
I took these photographs during a visit to Haviland's home town (now Adrian) near the Raisin River. They picture Haviland's headstone, a historical marker near her Quaker Meeting House, a document related to her husband's will, and a contemporary Haviland impersonator at Adrian's Art-A-Licious Festival in 2010.