My tutor in Togo
Last summer, I was looking for a Spanish tutor. I found an ad in the Ann Arbor Observer, and was soon meeting twice a week with Shayna Liston, a woman from Saline and recent graduate of the University of San Diego. Shayna is very nice and intelligent, and an excellent tutor. Unfortunately for me, she had signed up for the Peace Corps, and left for the West-African nation of Togo after only a couple of months of lessons. She put me on her e-mail list, so I got occasional updates from Togo. But I haven't heard from her since the
coup
in Togo in February, which has been followed by unrest and some violence. So I decided it was time to find out how she's doing--I googled her.
So I find out from a
February 24 article in the Saline newspaper
that the coup had little impact on the remote village where Shayna is, and she was doing well. Another
article
linked by the Peace Corps seems to indicate that Peace Corps volunteers are pretty safe. I hope so!
Here's the picture of Shayna playing her guitar in Togo that was in the Saline paper: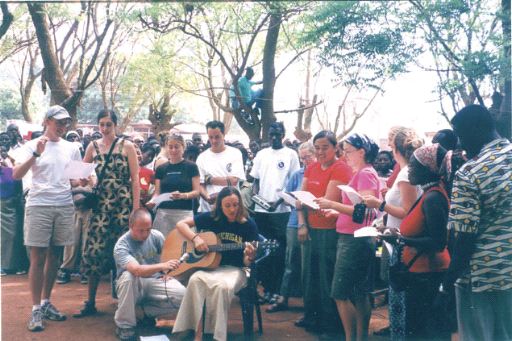 [Update] The WSWS has an
article today
about the recent election and associated violence in Togo.